Custom-printed packaging inserts can be a great way to increase customer loyalty, encourage repeat purchases, and build brand recognition. Similar to statement stuffers, packaging inserts are a low-cost way to increase your marketing efforts, and can be easily added to existing packages without adding extra shipping costs.
Packaging inserts can vary from a handwritten thank you note, coupon, or discount offer for a future purchase, to a product warranty card, guarantee certificate, or even a brochure that highlights your full product line. Since the shipped package usually represents the end of the transaction for most customers, packaging inserts can also be a great place to ask for a product review or to share their experience on social media.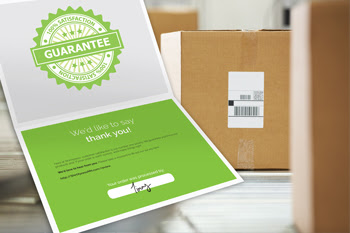 By taking the time to include a personalized thank you note or another creative marketing insert in your packages, you can help your package stand apart from your competition and exceed customer expectations. Because you are sending packages to individuals that are already customers, you can tailor your insert specifically for the person receiving it. For example, because you know exactly what product(s) the customer already likes, you can include marketing materials for highly-targeted, cross-selling opportunities.
If you need ideas for the perfect packaging insert to increase both sales and customer loyalty, our creative team would love to help!